Forbes Travel Guide is the global authority on genuine Five-Star service. We provide world-class professional development resources to any organization that makes exceptional service a pillar of its business.
Learn how we can help your team meet the highest standards.
Forbes Travel Guide offers world-class training in a variety of customizable formats that enhance service skills and inspire staff to elevate the guest experience.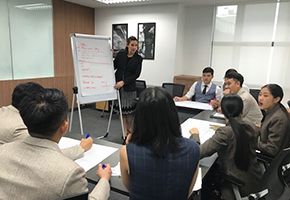 Service Training
We offer VIRTUAL and ON-LOCATION training to help teams build their skills and adapt to new service practices. Our certified trainers are highly experienced hospitality professionals with a global perspective on best practices and trends. We adapt training to the needs of your team, from front-line to leadership.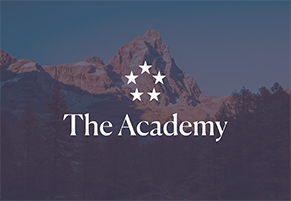 Online Training
Elevate your team's service skills through Forbes Travel Guide's 13-course online training program. Lobster Ink's state-of-the-art learning platform offers on-demand flexibility for any size team, interactive activities, customizable learning paths, progress tracking and a certificate of completion.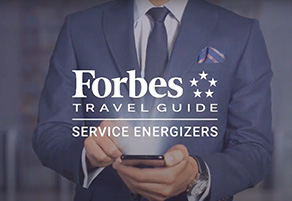 Service Energizers
Inspire your team every day with Service Energizers—a collection of Forbes Travel Guide activities and conversation starters for managers to use in daily pre-shift meetings or briefings. Delivered digitally every day, each exercise takes just a few minutes and brings to life the principles of service excellence.
Our certified, anonymous inspectors can visit your location any time to evaluate service and facility based on Forbes Travel Guide's standards—or your brand's own standards.
Select the timing and frequency of our visits and receive timely inspection reports with detailed observations and photos to help you understand your organization's strengths and opportunities for improvement.
We also offer phone-based checks for reservation and customer service centers.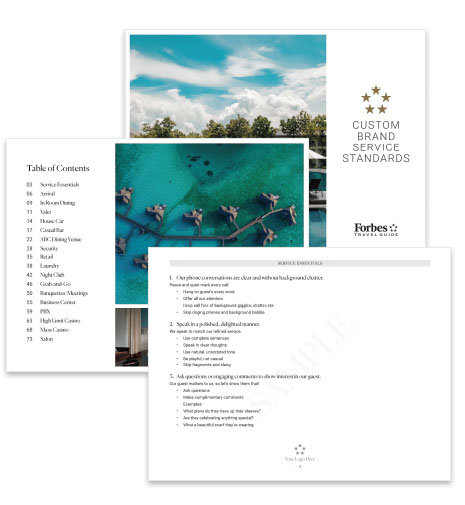 Your business has a unique personality, and you have a vision for the service culture you want to cultivate. We have 60 years' experience in service standards development and assessment.
Through a two-day, on-site consultation, we listen to your goals and then craft customized standards to help you meet them.
Forbes Travel Guide can also conduct incognito inspections to assess adherence to the standards.
Our highly experienced Executive Trainers are available to meet the full potential of your customized brand standards through engaging on-site training in full or multi-day increments.
GET STARTED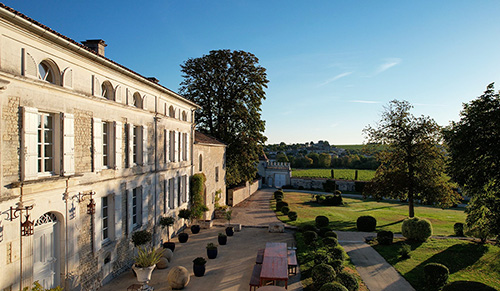 OUR CORPORATE RETREAT CENTER

FTG's Center for Excellence in southwest France offers a one-of-a-kind corporate retreat experience. Located at Le Logis, a medieval estate surrounded by some of Cognac's most prestigious vineyards and distilleries, the Center brings hospitality to life through meaningful learning sessions and purposeful team activities.
Explore Now
Star Rating & Partnership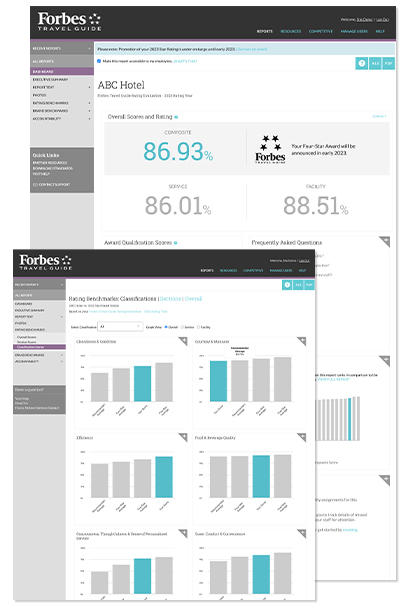 We rate nearly 2,000 hotels, restaurants and spas every year on the world's most exacting service and facility standards. No one can buy a Star Rating and no fees are required; ratings can only be earned through our independent inspection process.
For properties that we elect to Star Rate, we offer the option of joining our Partnership program, which provides transparency into the Star Rating process and access to our exclusive Partner community. Partners receive valuable benefits including a complete list of FTG standards, a full report of their annual Rating inspection results, and policy privileges such as cycle selection and remedy periods.
Partners enjoy many other benefits, such as promotion through Forbes.com, forbestravelguide.com and our social media channels, including Instagram, where @forbestravelguide is the #1 independent luxury hospitality account.
Contact us to learn more about Partnership opportunities and Star Rating.
REQUEST INFORMATION